Most of our clients come to us with a website they aren't very proud of.
Your website should perform its essential functions and represent your brand,
sort of like an employee who sells your services 24/7, 365.
Relay information
Your website should explain what you have to offer clearly and effectively.
Answer questions
What are your customer's most frequently asked questions? Your website should be able to answer them!
Represent you
Your website should represent your brand, just as you would if you were in front of the customer yourself.
Make the sale
This is the most important one! Customers should be able to contact you, book you, or make a purchase on the spot.
If your website isn't doing its job, we can help!
Who Are We?
Pinecoast Creative is a growing team of talented professionals who all run our own small businesses. We work from home, we have families, we juggle all the responsibilities that come with being a small business owner. It's our passion to come together and help you succeed in your business!
Katie started the business in 2015. She is a web designer and front-end developer and has worked with lots of different businesses over the years.
The rest of our team includes a branding expert, a copy writer, a maintenance technician, and a back-end developer, so we can handle any project that comes our way!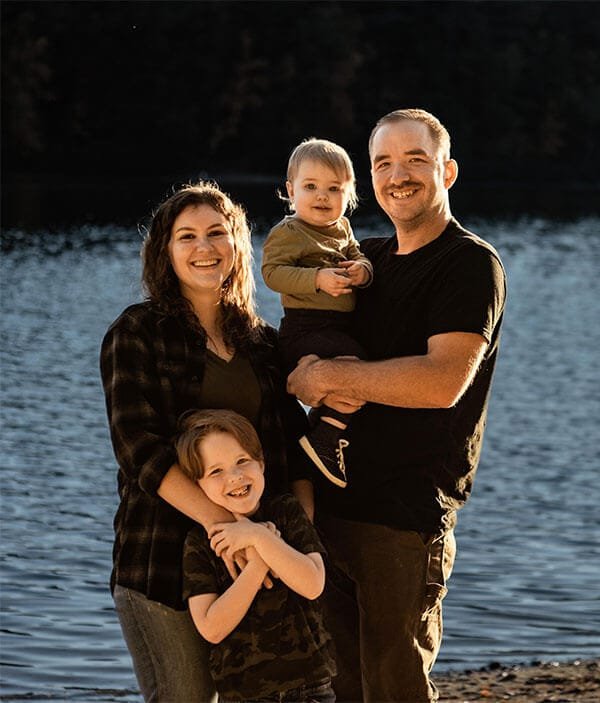 We want to work with you if you are:
ready to invest in your business
excited and motivated to start the process
willing to think through tough questions
open to accepting a professional opinion
We may not be a good fit if you:
are too busy to provide feedback in a timely manner
have a really tight deadline (we usually have a waiting list)
don't see the value in spending money on a website
don't have a direction and just need us to build something
Client Love
read what our clients have to say about us!
"THANK YOU- this is just amazing and exceeds my expectations by so much! I am just in love with all of it! You are AMAZING at what you do!!!"
"I have had a great experience working with Pinecoast Creative. Katie and her team did a phenomenal job with our website. Prior to finding Pinecoast Creative, I paid another company called Black Bear Web Design a pretty penny and had the worst experience.
I took a chance with Pinecoast Creative finding them through a web search was nervous that I would have the same situation, but working with Katie has been fantastic. She did what she said she would and it turned out better than I had hoped. My website looks great and the quality of work is superior. I would highly recommend this team."
"We loved working with Katie to redesign our Website! She took our initial ideas and put them together to create a site that is exactly what we were hoping for, and MORE! She responded to our questions right away and has made the whole process so painless. I would definitely recommend to her anyone wanting to update their business site or create a new site."
"Working with Pinecoast Creative has been an absolute pleasure. They have great communication skills and deliver web design and maintenance without any problems. I would highly suggest hiring Pinecoast for your website needs."
"Katie was incredible! Quick, thorough, professional! Would not work with anyone else going forward! Seriously. Full stop."
"I truly feel so grateful to have found you! What a wonderful, exciting, and easy process this has been for me as a business owner. Your talents are so appreciated, and thank you for bringing my site to life in such a polished and sophisticated way!"
"Working with Katie has been one of the best business decisions I have made. She is a total professional, a great communicator, patient and proactive. She truly delivered for me the vision I had for my site and was a joy to collaborate with throughout the entire process!"
What's Included?
the following features are included in all packages
Automatic Backup Set-Up
Sleep well knowing your site is backed up. We'll set up auto-backups to an offsite provider of your choice (Dropbox, Google Drive, etc.)
Basic SEO
We use best practices to help customers find your business on Google, including using proper HTML content structure, setting meta page titles and descriptions, assigning ALT tags to images, etc.
Blog Set-Up
Writing regularly can help with SEO and positions you as an expert in your field! We'll get the blog ready to go, so all you have to do is start posting! *Ask us about our blog writing services!*
Built-In Social Media
Visitors can easily share your products or posts to social media.
Contact Forms
We include 1 contact form that collects basic information and include a license for the premium form builder Gravity Forms.
Domain Set-Up
A URL for your customers to remember! We can help you purchase your new domain name if you don't already have one, or point your existing name to your new website.
Google Analytics Set-Up
We'll connect your existing Analytics and Search Console accounts, or create them for you. This allows you to view valuable data about your website, and indexes your website with Google.
Google Business Set-Up
We'll set up your Google Business page, which allows customers to submit Google reviews, see your phone number and location, and help with Google search results.
Hosting Set-Up
This is where your website files are stored. We'll install your new website on our server, or with a host of your choice.
Mobile-Friendly Pages
We make sure your site looks great on the most popular devices.
Recorded Zoom Training
A one-hour session to walk you through making changes to your site. We'll send you the recording for future reference!
Premium Themes and Plugins
Security Scanning/Firewall Set-Up
To keep your site safe and secure. This greatly reduces the chances of your website being hacked.
Need More?
the following features are add-ons
Copywriting
A 30-minute call with Kristina to discuss your website content and find your business's tone and personality. Up to 5 pages plus 3 blog posts.
Branding
Find your brand identity! We'll go over your target audience and your business goals to come up with a brand your customers will love! Includes a logo package, brand guide, business cards, and any other materials you might need.
E-Commerce
Includes product set-up for up to 20 products, product categorization, shipping method set-up, payment processor set-up, Google Shopping integration, and more!
Newsletter/Lead Magnet Set-Up
We'll hook up your existing newsletter provider, or set you up with Mailchimp. *Ask us about our newsletter management services!*
Privacy Policy/Terms and Conditions
We partner with a reputable policy generator, Termageddon. These policies are specific to your website and location, and will automatically update when online privacy laws change.
Pricing
so- how much will it cost?
Starter Website
Have a custom website like no other!
This base package includes a custom-designed website with up to 10 pages, and the features listed above. The client provides all written content, their logo, and branding materials.

50% is due to schedule your start date, and 50% is due before launch. All materials are due before we start.
Next Level Website
If you need additional features, request an estimate!
E-commerce, memberships, bilingual, calendar/scheduling app integration, online course integration, advanced forms and everything else! Schedule a call with us to discuss what you need.

50% is due to schedule your start date, and 50% is due before launch. All materials are due before we start.
How long will it take?
It entirely depends on the project size, but you can expect it to take anywhere from 6 to 16 weeks.
What does "Basic SEO" mean?
SEO= search engine optimization. We build your site using best practices so that Google can recognize the content on your website. This includes using proper heading tags, assigning keywords to your ALT tags, ensuring your meta titles and descriptions include keywords, etc.
Do I need website hosting?
Yes! Hosting is a server where all your website files are stored. Think of your host as the house where your website lives, and your domain name (your .com) is the address to your house. We offer hosting as part of our Website Care Plans!
Will my website look good on a phone?
Absolutely! All of our websites are mobile responsive, meaning the website will resize depending on the device being used. (It is not a separate mobile site like they used to do back in the day!)
When can we start?
We are typically booked a month or two out, but sometimes there are project delays, so reach out as soon as possible to get a spot on our schedule!
Can I make changes to the site myself?
Yes! After your website is launched, you get a 1-hour video chat call with me where I go over everything you need to know to make changes to your site. This is a recorded video, so you can reference the training at any time! We also offer Website Care Plans if you'd rather us do it for you!
What happens after I contact you?
During your free discovery call, we'll chat about your project and your business. After that, we send you a detailed proposal outlining the scope of the project, everything that's included, and the price. If you accept, we send the contract and your first invoice, and you officially have a spot on our schedule! Yay!
What if I need help later on?
Please contact us at any time! Even if you're not on a Website Care Plan with us, we are happy to help you for an hourly fee.
Do you do logos?
We offer logos and other branding materials like business cards as an add-on, just let us know what you need!
Do you have payment plans?
Yes! Most of our projects are split into 2 payments- a 50% deposit is required to hold your spot on our schedule, and the remaining 50% is due before the website is launched. We want to make the process as easy as possible, so if you need to discuss a different payment plan, please ask!
Pinecoast Creative proudly builds with